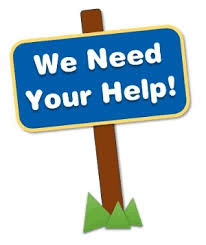 LVAC NEEDS YOUR HELP IN FUNDING OUR NEW AMBULANCE!
Our volunteers staff the ambulances day or night, rain or shine. Our mission is simple: To deliver emergency medical care to you and your family members in your time of need. That's 24/7/365. No snow days, no holidays … every single day.
LVAC's crews are not paid for their time, and our organization does not receive any tax-based funding whatsoever. No LVAC patient has incurred any out-of-pocket cost for our response, care, or transport. We are your friends and neighbors, and…
We really need your help right now! Our older ambulance, having made over 3000 runs, suffered an uninsured catastrophic electrical failure a few months ago. It was at the end of its service life and frankly it made no sense to repair it.
We have placed an order for a new ambulance which will cost us in excess of $250,000 when fully equipped. Unlike our previous rigs, it will be equipped with four-wheel drive, which will allow us to operate efficiently in all kinds of weather, particularly snow and ice. Even when the power is out and the roads are snow-covered, when you need help, you can depend on LVAC. Can we depend on you?
Please consider donating generously to help fund the new ambulance.
Click here for a donation form.
Thanks so much for supporting your community's ambulance service.

LVAC Supports SSFD's Annual Open House
South Salem resident Allie Bickler has her blood pressure taken by LVAC EMT Mark Sheeran at South Salem Fire Department's Annual Open House on October 13, 2018.

When you call 911 for emergency medical help, this is the team of dedicated volunteers who will show up at your door to help you in your time of need - 24/7/365.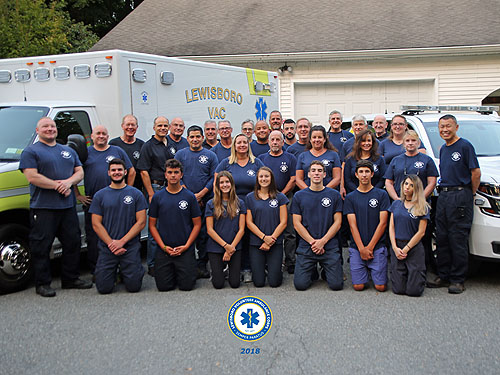 LVAC Executes Joint Drill with Golden's Bridge Fire Department

On May 8, LVAC performed a joint drill on automobile extrication with the Golden's Bridge Fire Department. LVAC members participate in two drills every month on various topics.

LVAC Elects 2018 Board

Front, L to R: Assistant Captain Judy Saslow, Secretary John McKeon, and President Ann Hirsch

Rear, L to R: Treasurer Mike Keech, Director Mike Kis, Vice President Hamlet Cuello, and Captain Dan Murtha

LVAC Supports the 2017 Leatherman's Loop

Photo by Jim Reilly

On Sunday, April 23, LVAC supported the annual Leatherman's Loop 10K Trail Run in Ward Pound Ridge Reservation. Here, LVAC volunteers treat an injured runner.

2017 LVAC Board

The 2017 LVAC Board in front of 6704, the new AP Farm fly car (l to r):

Vice President Hamlet Cuello, Director Mike Kis, Secretary John McKeon, Assistant Captain Dan Murtha, President Ann Hirsch, Captain Lucian Lipinsky, and Treasurer Mike Keech

LVAC Supports 2017 Lewisboro Library

Volunteer Fair

LVAC volunteers Melanie Merciante, Molly Thomann, and Adam Hirsch at the Fair

Video of the Arrival of the AP Farm Fly Car,

generously donated by Adam Rose and Peter McQuillan of AP Farm in Cross River

Lewisboro Daily Voice Interviews LVAC Volunteers

LVAC Adds EKGs To Arsenal

(reprinted from the Lewisboro Daily Voice, written by Donna Christopher)

Photo: Skip Pearlman

The Lewisboro Volunteer Ambulance Corps was just approved to administer EKGs, acquire the reading, and transmit it to the hospital from the patient's side.

"We are the first Basic Life Support volunteer ambulance corps in New York State to be permitted to do so. That makes LVAC the most advanced BLS corps in the state, said Chief Lucian Lipinsky.

When a patient has a suspected heart attack (EMTs are not permitted to diagnose, only treat symptoms) fast appropriate treatment is essential to minimizing long-term damage to the heart muscle, he explained.

"This is why any suspected heart attack victim must call 911 quickly."

Seconds literally can count, Lipinsky said.

One of the types of heart attack (or myocardial infarction, called "MI") shows up as a special EKG wave called an ST Elevated MI, or STEMI. This is a type of heart attack where one of the heart's arteries is significantly or completely closed. Someone with a STEMI needs to quickly get to a hospital with cardiac cauterization capabilities (cath lab).

"The closest one is Westchester County Medical Center. Yet, if the MI is NOT a STEMI then the patient should get to the closest hospital ASAP. For LVAC, that's typically Northern Westchester Hospital," he explained.

The only way to differentiate between the two types of heart attacks is by administering an EKG. Up to now, this has only been a level of care performed by a paramedic (medic).

As the volume of 911 calls climb, year after year, the times when one of the four medics is not available due to being on another emergency also increases.

The result? No EKG and the risk of delaying appropriate cardiac care, Lipinsky noted.

LVAC is addressing that by adding the ability to collect EKG data and sending it to its "medical control" at Northern Wetchester Hospital.

The EMTs have received additional training for the lifesaving skills, said Lipinsky.

Corps members also, for its history, receive two mandatory training sessions per month.

The new capabilities follows the recent fly-car added to Lewisboro Volunteer Ambulance Corps' fleet, improving its capabilities and response time in emergencies, according to Lipinsky.

It was donated by Adam R. Rose and Peter R. McQuillan, longtime Lewisboro residents, philanthropists, and owners of AP Farm in Cross River.

"In a town like Lewisboro with an area of 29 square miles, having multiple vehicles available throughout town reduces response time," LVAC Captain Lucian Lipinsky said.

The ambulance corps has three locations with official corps vehicles. From those locations no address is more than about four-and-a-half minutes away, he explained.

In addition, crew chiefs and emergency medical technicians often respond directly to the scene to further improve the speed by which patient care is delivered.

"With the red lights and sirens on these vehicles we are able to better and more safely travel to the call site. While all our members utilize green courtesy lights when responding to emergencies, many drivers don't understand the meaning of the green lights and don't move over to let them pass. With red lights and sirens drivers are required to yield and lifesaving minutes can often be saved getting to the sick and injured."

In the most recent month for which the corps has statistics, August 2016, it handled 55 emergency calls, according to Lipinksy.

While many agencies use "captain's cars," LVAC uses them as crew response vehicles. The on-duty crew chief has the option to sign-out the vehicle for use during his/her shift.

The practice helps to reduce response time while bringing medical equipment more quickly to the patient, Lipinsky said.

The ambulance corps needs new members, Lipinsky noted.

"We need riding member who respond to those in need and non-riding members who see to the needs of the business of LVAC. We provide all the medical training and equipment."

A "riding member," he explained, helps to maintain the facilities and the vehicles, stock inventory, train people, correspond with donors, and interact with vendors.

"Volunteering for LVAC fits into every lifestyle, career, and family – as a matter of fact, we have many members from the same family," said Lipinsky.

Click here to complete an application to ride with LVAC!




LVAC Receives Vehicle Donation From AP Farm

LVAC Fly Car Donors Adam R. Rose and Peter R. McQuillan

The Lewisboro Volunteer Ambulance Corps (LVAC), the Town of Lewisboro's all-volunteer and community supported emergency medical service provider, received a new and fully equipped sport utility vehicle to serve as a "fly car" for rapid response to emergencies. A fly car allows EMTs to respond swiftly and to triage patients prior to the ambulance, which would then transport patients if necessary.

The fly car was donated by Adam R. Rose and Peter R. McQuillan, longtime Lewisboro residents, prominent philanthropists, and owners of AP Farm in Cross River. Known in the community for their donation of the AP Farm Athletic Fields to the Katonah-Lewisboro School District, the married couple has supported local, regional, and national causes for over two decades. The Lewisboro Library, the Jacob Burns Film Center, and the Westchester Land Trust are just a few organizations that have benefited from their generosity. "We can think of no local organization that expresses the selflessness and caring for our community more than LVAC. Peter and I are extremely proud to be able to present LVAC with this handsome and greatly needed vehicle," said Rose at the LVAC Gifting Ceremony held on September 6th.

The fly car is a custom built white 2016 Chevrolet Tahoe. It is fully equipped with the standard basic life support (BLS) medical equipment carried by an ambulance along with advanced tools including syringe epinephrine (a significant cost reduction from EpiPens), Narcan for drug overdoses, Continuous Positive Airway Pressure (CPAP) masks, an automated defibrillator, a Lucas Device for automated chest compressions, and communications equipment.

"Adam and Peter have made an incredibly generous gift that will enable LVAC to reduce care response time and to maintain our status as one of the most highly trained and skilled all-volunteer ambulance services in the region," said Lucian Lipinsky, Captain of LVAC. "We are humbled by their commitment to the health and safety of their community."


Mr. Rose and Mr. McQuillan presented the gift at the LVAC meeting of the organization on Tuesday night September 6. Members of the Lewisboro Town Board and representatives from some of the volunteer fire companies in town attended the presentation. Ann Hirsch, President of LVAC, commented that "With an increase in monthly calls (last month was a record high of 52) it is critical that our fleet of vehicles be ready for action. This new fly car will greatly support our work. We encourage others to follow Adam and Peter's example. They have previously made a substantial donation to the purchase of our ambulance, but this is only the second time in our 30 year history that someone has donated an emergency vehicle outright. Look for the AP Farm Fly Car at community events."




LVAC EMT Riley DeJong receives the EMS Provider of the Year Award from the Firemen's Association of the State of New York - Congratulations, Riley!

On Saturday, August 13, LVAC EMT Riley DeJong received the prestigious honor of EMS Provider of the Year from the Firemen's Association of the State of New York for her courageous action on behalf of passengers in the front car of the 5:44pm Metro North train from Grand Central Terminal, on February 3, 2015.

DeJong's emergency medical technician skills served her well when the train struck an SUV on the tracks in Valhalla and burst into flames. Luckily uninjured, DeJong was able to provide medical care and direct others in the immediate care of fellow passengers.

"When thrust into tragic and unimaginable circumstances without warning, she thought only of how she could help others," FASNY President Robert McConville said in a release. "Her quick action and exceptional skill undoubtedly helped save the lives of many of her fellow passengers, and helped prevent a terrible tragedy from becoming even worse."

"Riley DeJong exemplifies the best of what it means to be a volunteer," State Assemblyman David Buchwald said in a release.

Click here for a video from WABC-TV regarding the event.
Adam Rose and Peter McQuillan Set The Bar For Supporting LVAC's New Ambulance Drive
LVAC rig 67B2 was partially funded by a gift from AP Farm in Cross River.

(L to R, LVAC President Ann Hirsch, Adam Rose, Peter McQuillan, LVAC Vice President Nancy Musich)

As the Lewisboro Volunteer Ambulance Corps were marching during a recent Memorial Day Parade, a woman was heard commenting to her companion, "This is an important group. If you get sick or hurt, they come for you." Well she's right; we do "come for you," as we've done for almost 40 years, every hour and day of the year.
But coming to you means not only with skilled EMT's but also with modern ambulances completely equipped with the highest quality pre-hospital emergency medical systems and equipment. This combination of medical expertise and fast transport can be the difference in life or death.
Clearly, a new ambulance is a very expensive project. A fully equipped Rig costs upward of $180,000, which is why we extended the life of one of our ambulances an extra two years. Since this is an especially significant acquisition we asked our friends, neighbors, and occasional patients, to respond and help us meet our goal.
No strangers to helping their community in significant ways, AP Farm's Adam Rose and Peter McQuillan provided a major boost to LVAC's appeal with a particularly significant leadership donation of $50,000, helping to guarantee LVAC's continued uninterrupted emergency medical service to the community.
LVAC Captain Lucian Lipinsky commented on the gift, "LVAC is truly the community's "last free ride" as we receive no funding from any Federal, State or Local sources so this extraordinary endorsement of LVAC's mission by Adam Rose and Peter McQuillan, representing AP Farm, has clearly energized our community appeal."
LVAC normally purchases a new ambulance every five years on a rotation basis, meaning we will always have both a newer and older model in service. In order to extend the life of our two-ambulance "fleet" we held off on getting a new "Rig" for several years in order to save some money for other pressing projects such as an expansion of our headquarters on Route 35, and the acquisition of medical systems and supplies for the Corps.

LVAC Covers 2016 Leatherman's Loop Race
Photo by Carol Gordon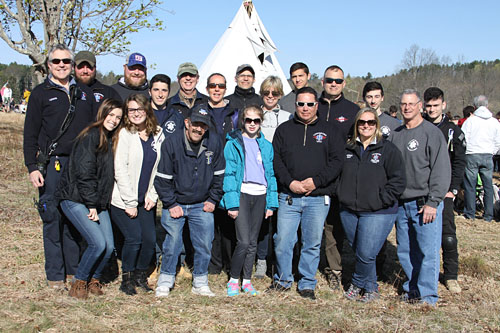 From LVAC Captain Lucian Lipinsky:
I would like to give a huge THANK YOU to the standby team who helped cover Sunday's Leatherman's race. With so many hands we were able to set-up and take-down operations in record time.
We treated about thirty patients – actually the Junior Corps treated 30 patients and did a great job. We treated cuts and scrapes, twisted and swollen ankles and knees, and pulled a couple of runners out of the woods. From the woods came out a potential broken ankle and a potentially serious knee injury who was transported to the hospital. Along with the standby, we were paged to a MVA (that we covered of course) that turned out to be an RMA (even though the telephone pole didn't fare so well). Not only did we care for injured runners, but I think it was a great learning experience for the entire team.
Thanks again for being the best all-volunteer ambulance corps in Westchester and for proving it every day!

LEWISBORO VOLUNTEER AMBULANCE CORPS
Congratulates
Riley Dejong

As WREMSCO EMT Of The Year
And also salutes LVAC EMTs
Dan Murtha, Steve Creedon,

and Jim Reilly
for their Lifesaving Award.
"Semper Paratus"

LVAC's Riley DeJong Receives Westchester EMT Of The Year Recognition
LVAC EMT Riley DeJong

Photo by Jim Reilly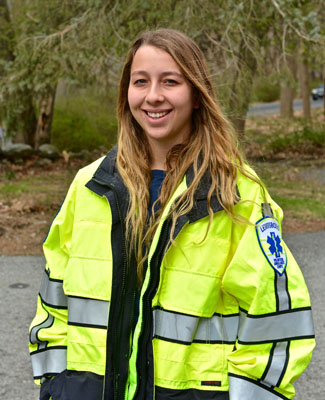 Lewisboro Volunteer Ambulance Corps (LVAC) member Riley DeJong has been named the 2015 Emergency Medical Technician Provider Of The Year by WREMSCO, the Westchester Regional Emergency Medical Services Council, its highest award.
On the evening of February 3, 2015, a commuter train on Metro-North's Harlem Line out of Grand Central Station struck a passenger SUV at a grade crossing near Valhalla killing six people and injuring fifteen others, including seven in very serious condition. The crash was the deadliest in Metro-North's history, as well as the deadliest such crash in the United States since the June, 2009 Washington Metro train collision had killed eight passengers and injured eighty.
The driver of the SUV was caught inside the crossing gate when it descended, wedging itself onto the rear of her vehicle when she apparently attempted to rectify the situation by crossing the tracks instead of backing up. The driver, along with five passengers on the train died when her vehicle was struck. The impact tore loose more than 450 feet of third rail and, after piercing the SUV, went through the front of the train, breaking into sections.
LVAC EMT Riley Dejong, a Waccabuc resident and student at The Swedish Insttute Of Health Sciences is also employed as an EMT by Westchester EMS (WEMS) in Mt. Kisco. She was seated in the front car returning from classes in Manhattan. She was nineteen years old at the time and had just received her NYS EMT Certification as a member of LVAC. The front car was filled with smoke, flames and fuel fumes from the burning SUV along with dead and dying passengers. Miraculously she was unhurt and immediately started triage and provided life-saving aid to the wounded prior to the arrival of other EMS first responders. Passengers from the after cars could not reach the front car as the doors were jammed and the smoke held them back.
She removed belts from fellow wounded passengers and instructed an uninjured woman passenger to make a tourniquet out of one belt while Riley made one from another; together they provided hemorrhage control and treated a man with a double partial leg amputation. She then provided first aid to the wounded, continued triage and instructed others on caring for the wounded. She maintained patient contact and cared for the double amputee victim until additional EMS arrived at which point she helped package him and transfer to the ambulance. After that patient left, she rode a Valhalla ambulance to the Westchester Medical Center, treating two patients en route. Nine patients were taken to the Medical Center.
Commenting on the Award, LVAC Captain Lucian Lipinsky said," For a newly certified EMT, Riley's cool and professional response during an extremely hazardous situation is even more extraordinary. We are proud to have her on LVAC's team."
A Certificate of Recognition, awarded by Governor Andrew M. Cuomo, stated:
Demonstrating great calm and courage, you helped to extinguish the fire and remove several victims to safety, providing care in the ambulance to Westchester Medical Center, as well. You have earned the appreciation of a grateful community and the respect and admiration of all New Yorkers. I commend your bravery, resourcefulness, and quick thinking.

LEWISBORO LIONS, TATOR'S GARAGE AND LEWISBORO CHAMBER OF COMMERCE FUND LVAC'S TACTICAL EMERGENCY CASUALTY CARE KIT
Looking over the extensive variety of medical equipment that makes up LVAC's Multiple Casualty Trauma Kits are, from Left, Ann Hirsch, LVAC President, Mike Keech, Lions Club, Rich Giaccio, Vice President, Lewisboro Chamber Of Commerce, Chuck Tator, President, Lewisboro Chamber Of Commerce and also representing Tator's Garage, Lewisboro Police Chief Frank Secret, New York State Police Trooper Matt Yorke,
and LVAC Captain Lucian Lipinsky.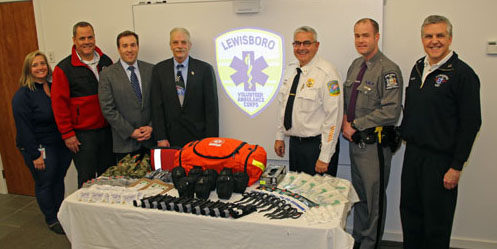 The Lewisboro Volunteer Ambulance Corps (LVAC) is expanding its training and readiness programs to focus on high-threat, high-fatality events with the goal of rapidly treating victims and first responders as close to the point of injury as possible. With the frequency of events increasing nationally, new techniques aimed at threat suppression and victim survival are now being introduced throughout the First Responder community through FEMA (Federal Emergency Management Agency) and Homeland Security. LVAC has joined with Westchester area police and fire departments and other EMS agencies to review and incorporate the new approaches and procedures.
LVAC is an agency within the Westchester Department of Emergency Services and as such is frequently dispatched to support surrounding agencies as part of the County mutual aid plan. In extreme cases, as was the case with the attack on September 11, 2001, LVAC can also be dispatched to New York City. On September 12, 2001 LVAC was the lead ambulance stationed at West and Vesey streets in lower Manhattan. With this in mind, LVAC is expanding its capabilities in the event that a multiple assault victim event occurs in its operating area.
The key concepts in these types of events, according to LVAC Captain Lucian Lipinsky, are "Threat Suppression, Hemorrhage Control, Maintain Breathing, Rapid Extrication, Assessment by medical personnel and Transport to definitive care. We want to treat and transport as many patients with the greatest speed possible." Assuming the potential for multiple victims, LVAC has prepared a Multiple Casualty Trauma Kit containing a variety of necessary medical supplies needed to immediately treat life threatening penetrating injuries and serious bleeding for multiple patients. The Kit is an outgrowth of Tactical Casualty Care protocols developed by the military for multiple combat casualties. The primary focus, according to Lipinsky, is "controlling major hemorrhaging, assuring circulation, maintaining an airway and treating chest wounds."

Preparing a kit is expensive, said Lipinsky, requiring multiple combat tourniquets, chest seals, specialized bandages, artificial airways and hemostatic (blood clotting) agents. Fortunately, several Lewisboro organizations, The Lions Club, Chamber of Commerce and Tator's Garage in South Salem provided LVAC with a combined donation of $1,200 enabling them to acquire the materials and assemble the Kit.
From left, LVAC President Ann Hirsch receives a check from Lewisboro Chamber of Commerce Vice President Rich Giaccio, and Chuck Tator of Tator's Garage presents a check to LVAC Captain Lucian Lipinsky.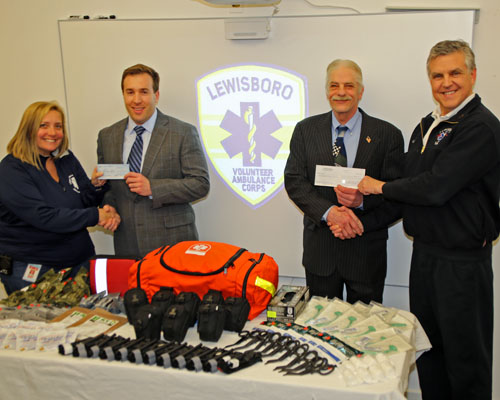 The funds also allowed LVAC to provide smaller, Individual Trauma Kits, also called "Officer Down" Kits, that have been presented to Lewisboro Town Police Chief Frank Secret, who said the Kits will be placed in each of the department's five patrol vehicles affording duty officers with potentially on scene life-saving support. Several kits are being donated to New York State Police patrol units that cover the Town Of Lewisboro. This is just one more example of LVAC's close working relationship with local and area law enforcement agencies.
Commenting on the donation, LVAC's Lipinsky said, "These funds will allow LVAC to enhance its training and preparedness for events that could impact our community. We are deeply grateful to The Lions Club, The Chamber Of Commerce, Tator's and several individual donors for enabling us to sustain our reputation for leadership within the County's EMS first responder community."


South Salem Fire Department Demonstrates Rapid Gear Removal for Firefighter CPR in Joint Drill With LVAC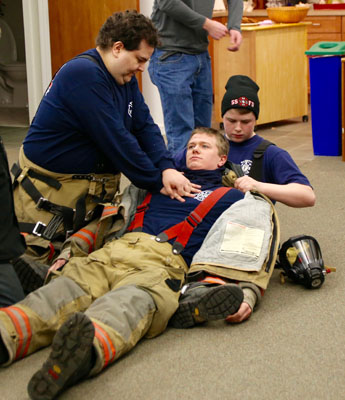 Members of the South Salem Fire Department, led by Fireman / EMT Steve Creedon demonstrated a new life saving technique for firemen who may suffer a cardiac arrest while at the scene of an emergency. In a display of practical choreography, CPR compressions are immediately started while other first responders coordinate the removal of heavy turn out coats, gear, helmets, boots, O2 masks and self contained breathing apparatus (SCBA), all in one swift, efficient movement that does not interfere with the application of CPR compressions given by one of the rescuers. Above, at LVAC's Headquarters on Route 35, Fire Fighters Scott Schoenberg simulates providing continuous CPR compressions with Donald Wicks as victim while Cody Harris takes up position to set up the rapid removal of gear and tank by other rescuers. After the demonstration, LVAC members took turns learning the new technique.

LVAC Among First EMS Ambulance Corps to Use
Blood Sampling
The Lewisboro Volunteer Ambulance Corps is among the first EMS Volunteer Ambulance Corps in Westchester County authorized to use blood sampling as part of its patient assessment protocols. Pre-hospital blood sugar evaluation is intended to assist in the recognition of abnormal glucose levels and improve the speed with which proper treatment is received. Hypoglycemia (low blood sugar), along with hyperglycemia, (high blood sugar) are both potentially serious medical conditions. Using a device familiar to diabetics called a Glucometer, which contains a lancet and electronic measuring capability, LVAC EMTs can now quickly detect blood glucose anomalies enabling them to provide early treatment and speedier triage decisions.
"Prehospital glucometry is a safe, effective and minimally invasive procedure used by EMS professionals around the country," commented LVAC Captain Robert Stoddard. "A variety of medical conditions and patient presentations warrant prehospital blood glucose analysis. An altered mental status is the most common adult chief complaint that triggers a blood glucose measurement by EMS personnel," he added. Before this policy change by the New York State Emergency Medical Advisory Committee authorizing EMTs to provide blood sugar analysis in the field, only Paramedics were authorized to do the testing. According to Captain Stoddard, LVAC applied for the authorization and has completed all the requirements and training of LVAC's EMTs and Crew Chiefs. He acknowledged the "excellent" support of Dr. David Zuckerberg in managing the application process. Dr. Zuckerberg is a member of Northern Westchester Hospital's Emergency Department and also serves as LVAC's Medical Control physician contact.


2015

Total Runs: 385

Patients Transported: 294

Call Type

Medical: 252

Trauma non-MVA: 74

Trauma MVA (Motor Vehicle Accident): 40

Stand-by: 19

Call Location

Cross River: 107

Goldens Bridge: 110

Katonah: 3

South Salem: 111

Waccabuc: 30

Mutual Aid (calls covered for neighboring towns): 46

Destination

Northern Westchester Hospital: 255
Westchester Medical Center: 12

Danbury Hospital: 13
Norwalk Hospital: 1
Putnam Hospital: 5

* * * * *