LVAC Sponsors Successful Bake Sale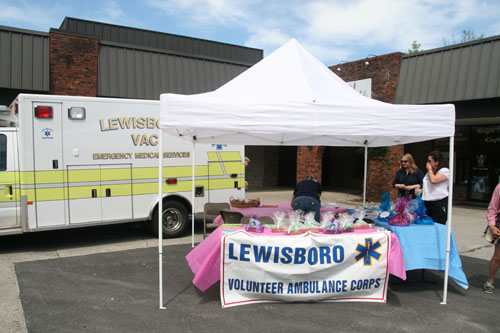 LVAC held its Annual Bake Sale a month earlier this year than usual on Friday, May 10, and Saturday, May 10. The Bake Sale is a wonderful opportunity for the community to give back to LVAC. Up to 100 local bakers create their masterpieces and donate them to us.
Despite a mix of weather, there was a continuous flow of baked goods from the beginning of the sale on Friday morning to midday Saturday. Additionally, there were people who remembered what they had purchased from last year and were waiting for that special bunt cake or pie to arrive. Other neighbors watching their waistlines might stop by just to offer a donation or chat about an experience they had with LVAC.
Interestingly, this year our sales were virtually identical on Friday and Saturday... which could be a first.
LVAC offers its sincere thanks to all of our bakers as well as the kind people of Lewisboro who purchased all the goodies. Since LVAC receives no financial assistance from any governmental agency and must rely on individual donations to maintain its service, public response to such fund raisers as our Bake Sale is so important.

LVAC Stands By at the Leatherman's Loop
The Leatherman's Loop is described by the organizers as "a unique 10k trail run featuring river crossings, a quarry climb, beautiful pine forests, swamp land, and the Legend of the Leatherman." LVAC volunteers have supported this grueling run for many years, standing by in case of injury to provide first aid and transport if necessary for any of the runners. This year, the run on April 21, 2013 was fortunate to have escaped any serious injuries, but many runners took advantage of LVAC services to treat scrapes, sprains, etc. All of the LVAC support, as happens in town 365 days a year, is offered without charge and without any funding from any governmental agency – just from the help of the kind residents of Lewisboro who support us through their contributions.


2012

Total Runs: 457

Patients Transported: 370

Call Type

Trauma MVA (Motor Vehicle Accident): 39

Trauma non-MVA: 110

Medical: 282

Stand-by: 26

ALS (Advanced Life Support): 147

Pediatric (under 18 years of age): 46

Geriatric (age 70 and above): 157

Four Winds: 30

Call Location

Cross River: 106

Goldens Bridge: 125

South Salem: 165

Waccabuc: 41

Mutual Aid (calls covered for neighboring towns): 20

Patients Transported: 370

Refused Medical Attention: 64

Cancelled: 20

No Patient Found: 5

Other: 3

Destination

Northern Westchester Hospital: 342
Westchester Medical Center: 11
Norwalk Hospital: 2
Danbury Hospital: 9
Putnam Hospital: 6