Please click here to learn how to volunteer with LVAC.

Please click here to be added to LVAC's eMail distribution list.

ANONYMOUS CHALK PAINTING APPEARS AT LVAC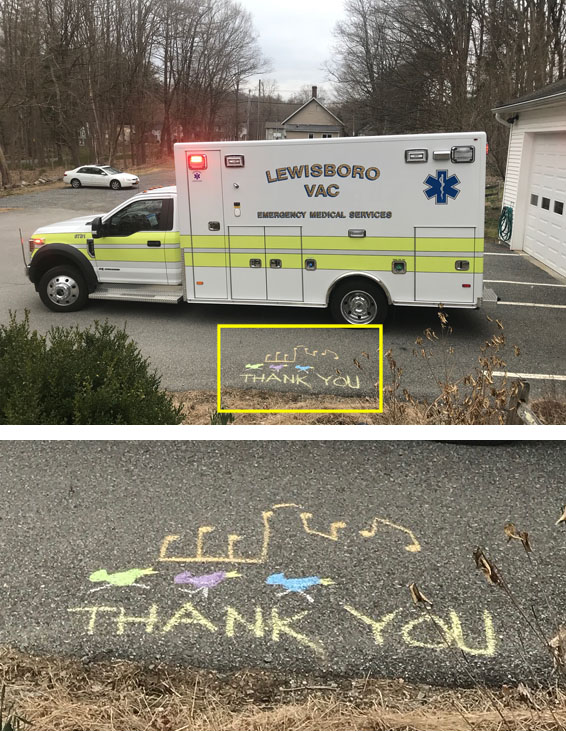 When LVAC Captain Dan Murtha arrived at the Corps facility on Sunday morning, April 5, he came upon this chalk painting created anonymously overnight.
At a time when LVAC is undergoing some extreme challenges, it is so helpful to be reminded how our community continues to stand behind us.
To whomever created this artwork, thank YOU! It means so much to us.

LVAC ENCOURAGES PROPER HAND WASHING
Click on the short video below:

LVAC ANNOUNCES 2020 BOARD
LVAC photo by Ted Strauss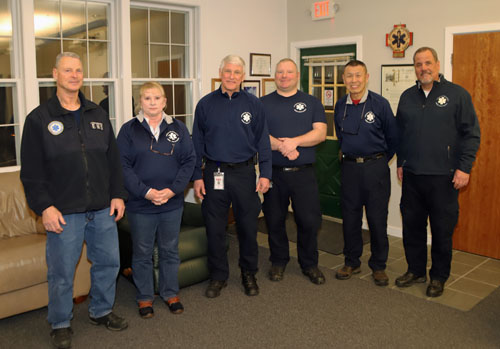 Lewisboro Volunteer Ambulance Corps members voted for a realignment of its Board Of Directors at its recent Annual Meeting.
Mark Sheeran has been elected President of the Board, succeeding Jim Reilly, whose term ended. George Chiu has been elected as a new member of the Board and Vice President succeeding Sheeran. Reilly will continue as LVAC Lieutenant and Training Officer.
Reelected to the Board in their current positions are Dan Murtha, Captain, Judy Saslow, Assistant Captain, Mike Keech, Treasurer, John McKeon, Secretary and Mike Kis, Director. Photo above, left to right, Mike Kis, Judy Saslow, Mark Sheeran, Dan Murtha, George Chiu and Mike Keech. Secretary John McKeon was unavailable.

LEWISBORO LIONS CLUB PRESENTS CHECK FOR $5000 TO LVAC FOR NEW AMBULANCE
On September 26, the Lewisboro Lions Club President Dave Phillips presented LVAC with a check for $5000 toward the purchase of LVAC's new ambulance.
In response, LVAC President Jim Reilly said, "Once again, LVAC is indebted to the Lewisboro Lions Club for their continued support and generosity. In the past they have funded specialized stretcher equipment, carbon monoxide diagnostic devices, tactical emergency kits for mass casualty events, and now a very welcome donation for our new state-of-the-art ambulance. They continue to be a valued partner to LVAC and to the Community".


2019

Total Runs: 457