Please click here to learn how to volunteer with LVAC.

Please click here to be added to LVAC's eMail distribution list.

7,426 Miles No Distance At All to offer Covid-19 Support
In times of national crisis, buried beneath the "sky is falling" headlines and "this just in" sound bites are countless stories of selfless sacrifice, mutual support and shared good will in our communities. In Lewisboro, that community was recently enlarged to include the city of Ningbo, a Port City on China's eastern coastline. Ningbo is one of China's oldest cities, located south of the Yangtze River Delta and because of its geography and history, it is rich in natural scenery and cultural heritage.
In 1991, Maryknoll Fathers and Sisters initiated an effort to train priests and women religious for various leadership roles in the church throughout China. Sister Mary Mao, a member of the Sisters of the Savior of Souls in Ningbo, was among those nurtured by the Maryknoll Sisters in Ossining, NY.
With the global pandemic impacting all nations, the Chinese Sisters Mary Mao and Mary Pan kept in touch with the Maryknoll Community, including Anli Hsu, of Scarsdale who works with the Maryknoll Order. Through her connections with a Lewisboro Voluntary Ambulance Corps (LVAC) EMT and Board Vice President, George Chiu, she learned of the critical shortage of Personal Protective Equipment (PPE) including face masks and shields. With the support and encouragement of their Bishop, Yangke Jin, the Sisters in Ningbo launched their initiative.
Nuns from Ningbo, China heard of Lewisboro Volunteer Ambulance Corps' shortage of Personal Protective Equipment and put together a multi-city effort to produce and ship over 800 Face masks and shields to LVAC.

Several weeks later, LVAC received a shipment of 500 KN-95 masks and 335 face shields, the maximum amount allowed by the Chinese government, from Sister Mary Mao who said the face shields were hand made by volunteers in Cixi, a city in the diocese of Ningbo where many Catholics live. The costs were borne by donations and Bishop Yangke Jin who committed to cover the remaining costs of freight and shipping. The person in charge of the face mask production was Ms. Huijun Wang.

In a letter to Ms. Wang expressing the appreciation of the Ambulance Corps, LVAC Captain Dan Murtha wrote "We are on the front-line of the COVID-19 pandemic in the United States and, at a time when supplies of PPE were running critically low, your donation afforded us an additional margin of safety, and we thank you." Reflecting on the donation, he added, "While 7,426 miles separates Ningbo from Lewisboro, there is no distance at all when people reach out to help each other in difficult times. "It's not the miles," he said, "it's the smiles."

YOUTH LACROSSE SCORES SUPPORT FOR LVAC
John McKeon accepting mask delivery from JJYL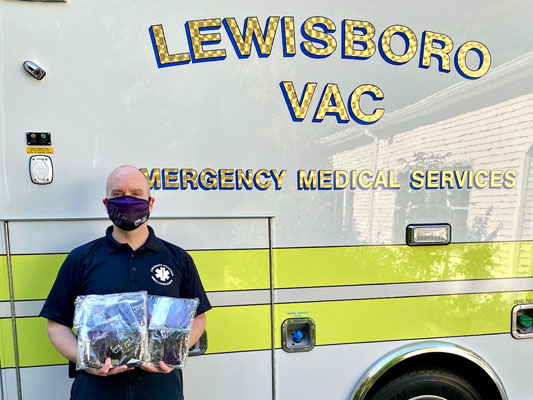 John McKeon, LVAC Secretary, accepted the delivery of 50 face masks donated through a fundraising campaign sponsored by John Jay Youth Lacrosse. The youth athletic program sold 60 masks, setting aside half for donation to local first responders including LVAC, fire and police department personnel and other frontline workers.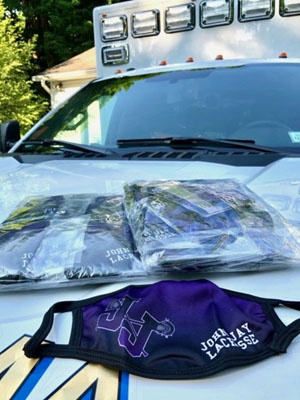 (Story from the Record Review, photos by Matthew McMahon)


ANONYMOUS CHALK PAINTING APPEARS AT LVAC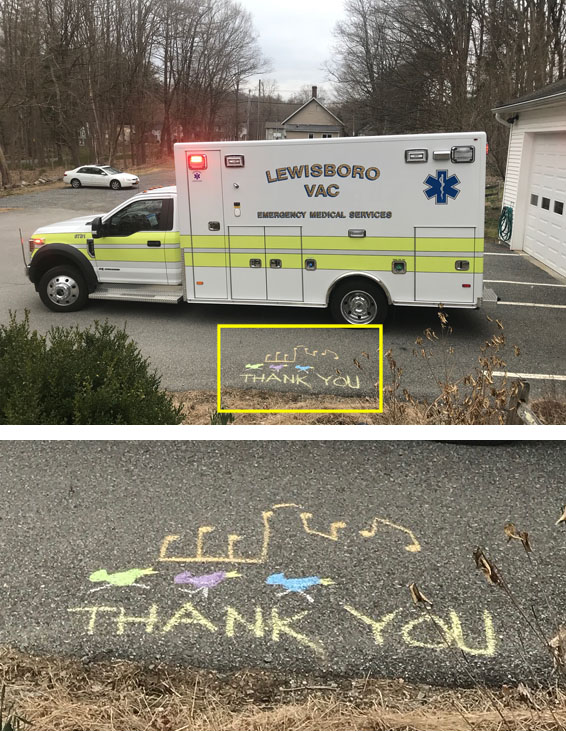 When LVAC Captain Dan Murtha arrived at the Corps facility on Sunday morning, April 5, he came upon this chalk painting created anonymously overnight.
At a time when LVAC is undergoing some extreme challenges, it is so helpful to be reminded how our community continues to stand behind us.
To whomever created this artwork, thank YOU! It means so much to us.

LVAC ENCOURAGES PROPER HAND WASHING
Click on the short video below:

LVAC ANNOUNCES 2020 BOARD
LVAC photo by Ted Strauss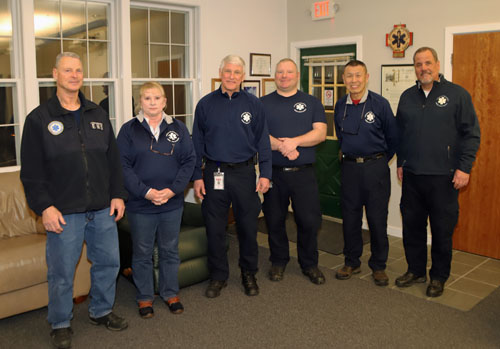 Lewisboro Volunteer Ambulance Corps members voted for a realignment of its Board Of Directors at its recent Annual Meeting.
Mark Sheeran has been elected President of the Board, succeeding Jim Reilly, whose term ended. George Chiu has been elected as a new member of the Board and Vice President succeeding Sheeran. Reilly will continue as LVAC Lieutenant and Training Officer.
Reelected to the Board in their current positions are Dan Murtha, Captain, Judy Saslow, Assistant Captain, Mike Keech, Treasurer, John McKeon, Secretary and Mike Kis, Director. Photo above, left to right, Mike Kis, Judy Saslow, Mark Sheeran, Dan Murtha, George Chiu and Mike Keech. Secretary John McKeon was unavailable.

LEWISBORO LIONS CLUB PRESENTS CHECK FOR $5000 TO LVAC FOR NEW AMBULANCE
On September 26, the Lewisboro Lions Club President Dave Phillips presented LVAC with a check for $5000 toward the purchase of LVAC's new ambulance.
In response, LVAC President Jim Reilly said, "Once again, LVAC is indebted to the Lewisboro Lions Club for their continued support and generosity. In the past they have funded specialized stretcher equipment, carbon monoxide diagnostic devices, tactical emergency kits for mass casualty events, and now a very welcome donation for our new state-of-the-art ambulance. They continue to be a valued partner to LVAC and to the Community".


2019

Total Runs: 457