LVAC's newest vehicle, 6704, the AP FARM Fly Car"
LVAC 67B2 officially enters service, celebrated with a traditional 'wet-down'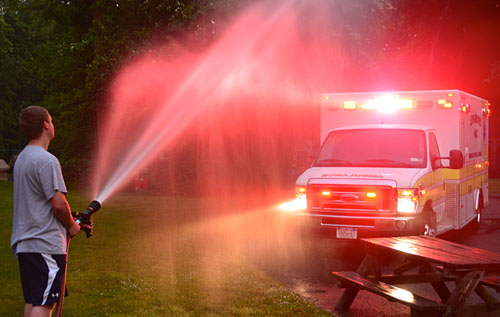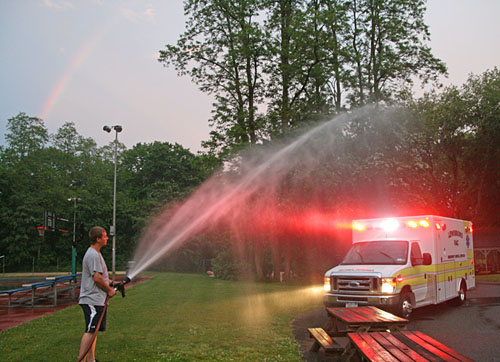 Lewisboro Volunteer Ambulance Corps invited the Community to attend a "Wet-Down" ceremony to mark the launching of its new ambulance at the Lewisboro Town Park on June 3rd.
"It's a special tradition," commented LVAC Captain Bob Stoddard, "and not unlike the christening of a ship. Historically it has been a long-standing ritual of the fire and ambulance service, especially Fire Service volunteers, who ritualistically commission a new vehicle by anointing it with water to keep them safe."
During the Town Park ceremony, fire apparatus and crews from the South Salem Fire Department kept the tradition alive by "spraying down" LVACs new rig, officially listed as 67B2 by Westchester County Department of Emergency Services.
"We're very happy and honored that our fellow First Responders from South Salem joined LVAC to keep the tradition alive," commented Stoddard, and thanked members of the community for taking part in the ceremony."
A highlight of the "wetdown" ceremony was the simultaneous appearance of a rainbow over the event (see photo above).
The History of the 'Wet-Down'
The ritual dates back to the late 1800's, when horse- drawn pumpers were used throughout the nation's fire service. Horses that were commissioned for service would be washed along with the pumper at their newly assigned firehouse and backed into the firehouse bay. The firefighters would then fit the new horse with its harness placing the company in service. After every run, firefighters had to hand push their pumpers back into the bay and prepare for the next alarm.
New LVAC Ambulance 67B2 Arrives!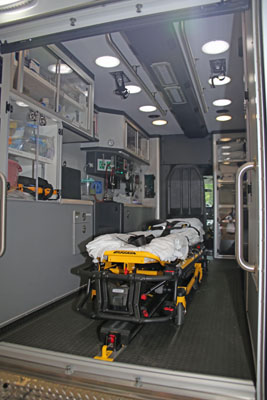 LVAC's new ambulance, built by PL Custom Emergency Vehicles in 2014, is known as Ambulance 67B2. It features a gasoline engine (previous rigs have been diesel) and a Stryker hydraulic cot and loader. The same cot/loader has just been installed on LVAC's 67B1 rig, which will be retained to serve alongside the new ambulance.
Thanks so much to AP Farm and the generous citizens of Lewisboro whose donations have allowed us to make this purchase!

First Response Vehicle 6703 in front of LVAC headquarters