The original LVAC Ambulance, Memorial Day 1985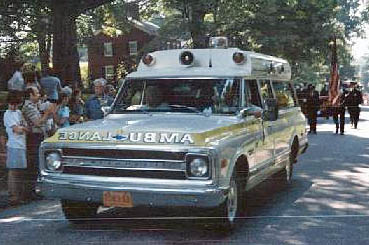 The Lewisboro Volunteer Ambulance Corps (LVAC) was founded in 1977. It began with one used ambulance and a rented garage in Cross River.
In 1981, the current building at 777 Route 35 was dedicated in Cross River. It was built by citizens of the town, who contributed their hard work and expertise in various fields of construction, equipment and materials. Our building was also expanded and improved in the early 2000s, which gave us much-needed space for training and administration.
In 2018 we were proud to receive a grant from the Stayin' Alive Charity that helped us purchase 3 additional AEDs. Previous Stayin' Alive donations have also provided us with advanced CPR training Manikins, training equipment, and other additional equipment.
In 2019, LVAC operates with 2 ambulances, 2 BLS (Basic Life Support) Fly Cars, and a staff including more than 20 EMTs. We are sometimes also known as Lewisboro-EMS.

LVAC EMT Riley DeJong receives the EMS Provider of the Year Award from the Firemen's Association of the State of New York - Congratulations, Riley!

On Saturday, August 13, LVAC EMT Riley DeJong received the prestigious honor of EMS Provider of the Year from the Firemen's Association of the State of New York for her courageous action on behalf of passengers in the front car of the 5:44pm Metro North train from Grand Central Terminal, on February 3, 2015.

DeJong's emergency medical technician skills served her well when the train struck an SUV on the tracks in Valhalla and burst into flames. Luckily uninjured, DeJong was able to provide medical care and direct others in the immediate care of fellow passengers.

"When thrust into tragic and unimaginable circumstances without warning, she thought only of how she could help others," FASNY President Robert McConville said in a release. "Her quick action and exceptional skill undoubtedly helped save the lives of many of her fellow passengers, and helped prevent a terrible tragedy from becoming even worse."

"Riley DeJong exemplifies the best of what it means to be a volunteer," State Assemblyman David Buchwald said in a release.

Click here for a video from WABC-TV regarding the event.
Adam Rose and Peter McQuillan Set The Bar For Supporting LVAC's New Ambulance Drive
LVAC rig 67B2 was partially funded by a gift from AP Farm in Cross River.

(L to R, LVAC President Ann Hirsch, Adam Rose, Peter McQuillan, LVAC Vice President Nancy Musich)

As the Lewisboro Volunteer Ambulance Corps were marching during a recent Memorial Day Parade, a woman was heard commenting to her companion, "This is an important group. If you get sick or hurt, they come for you." Well she's right; we do "come for you," as we've done for almost 40 years, every hour and day of the year.
But coming to you means not only with skilled EMT's but also with modern ambulances completely equipped with the highest quality pre-hospital emergency medical systems and equipment. This combination of medical expertise and fast transport can be the difference in life or death.
Clearly, a new ambulance is a very expensive project. A fully equipped Rig costs upward of $180,000, which is why we extended the life of one of our ambulances an extra two years. Since this is an especially significant acquisition we asked our friends, neighbors, and occasional patients, to respond and help us meet our goal.
No strangers to helping their community in significant ways, AP Farm's Adam Rose and Peter McQuillan provided a major boost to LVAC's appeal with a particularly significant leadership donation of $50,000, helping to guarantee LVAC's continued uninterrupted emergency medical service to the community.
LVAC Captain Lucian Lipinsky commented on the gift, "LVAC is truly the community's "last free ride" as we receive no funding from any Federal, State or Local sources so this extraordinary endorsement of LVAC's mission by Adam Rose and Peter McQuillan, representing AP Farm, has clearly energized our community appeal."
LVAC normally purchases a new ambulance every five years on a rotation basis, meaning we will always have both a newer and older model in service. In order to extend the life of our two-ambulance "fleet" we held off on getting a new "Rig" for several years in order to save some money for other pressing projects such as an expansion of our headquarters on Route 35, and the acquisition of medical systems and supplies for the Corps.
LEWISBORO LIONS, TATOR'S GARAGE AND LEWISBORO CHAMBER OF COMMERCE FUND LVAC'S TACTICAL EMERGENCY CASUALTY CARE KIT
Looking over the extensive variety of medical equipment that makes up LVAC's Multiple Casualty Trauma Kits are, from Left, Ann Hirsch, LVAC President, Mike Keech, Lions Club, Rich Giaccio, Vice President, Lewisboro Chamber Of Commerce, Chuck Tator, President, Lewisboro Chamber Of Commerce and also representing Tator's Garage, Lewisboro Police Chief Frank Secret, New York State Police Trooper Matt Yorke,
and LVAC Captain Lucian Lipinsky.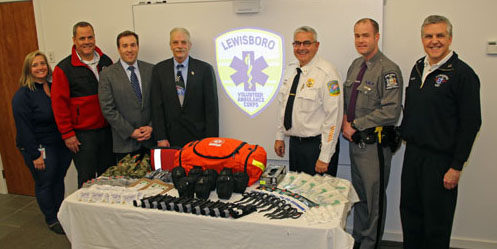 The Lewisboro Volunteer Ambulance Corps (LVAC) is expanding its training and readiness programs to focus on high-threat, high-fatality events with the goal of rapidly treating victims and first responders as close to the point of injury as possible. With the frequency of events increasing nationally, new techniques aimed at threat suppression and victim survival are now being introduced throughout the First Responder community through FEMA (Federal Emergency Management Agency) and Homeland Security. LVAC has joined with Westchester area police and fire departments and other EMS agencies to review and incorporate the new approaches and procedures.
LVAC is an agency within the Westchester Department of Emergency Services and as such is frequently dispatched to support surrounding agencies as part of the County mutual aid plan. In extreme cases, as was the case with the attack on September 11, 2001, LVAC can also be dispatched to New York City. On September 12, 2001 LVAC was the lead ambulance stationed at West and Vesey streets in lower Manhattan. With this in mind, LVAC is expanding its capabilities in the event that a multiple assault victim event occurs in its operating area.
The key concepts in these types of events, according to LVAC Captain Lucian Lipinsky, are "Threat Suppression, Hemorrhage Control, Maintain Breathing, Rapid Extrication, Assessment by medical personnel and Transport to definitive care. We want to treat and transport as many patients with the greatest speed possible." Assuming the potential for multiple victims, LVAC has prepared a Multiple Casualty Trauma Kit containing a variety of necessary medical supplies needed to immediately treat life threatening penetrating injuries and serious bleeding for multiple patients. The Kit is an outgrowth of Tactical Casualty Care protocols developed by the military for multiple combat casualties. The primary focus, according to Lipinsky, is "controlling major hemorrhaging, assuring circulation, maintaining an airway and treating chest wounds."

Preparing a kit is expensive, said Lipinsky, requiring multiple combat tourniquets, chest seals, specialized bandages, artificial airways and hemostatic (blood clotting) agents. Fortunately, several Lewisboro organizations, The Lions Club, Chamber of Commerce and Tator's Garage in South Salem provided LVAC with a combined donation of $1,200 enabling them to acquire the materials and assemble the Kit.
From left, LVAC President Ann Hirsch receives a check from Lewisboro Chamber of Commerce Vice President Rich Giaccio, and Chuck Tator of Tator's Garage presents a check to LVAC Captain Lucian Lipinsky.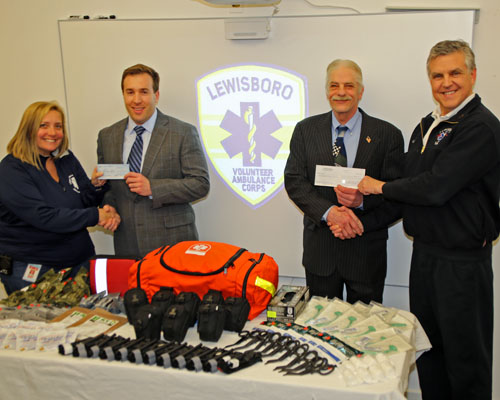 The funds also allowed LVAC to provide smaller, Individual Trauma Kits, also called "Officer Down" Kits, that have been presented to Lewisboro Town Police Chief Frank Secret, who said the Kits will be placed in each of the department's five patrol vehicles affording duty officers with potentially on scene life-saving support. Several kits are being donated to New York State Police patrol units that cover the Town Of Lewisboro. This is just one more example of LVAC's close working relationship with local and area law enforcement agencies.
Commenting on the donation, LVAC's Lipinsky said, "These funds will allow LVAC to enhance its training and preparedness for events that could impact our community. We are deeply grateful to The Lions Club, The Chamber Of Commerce, Tator's and several individual donors for enabling us to sustain our reputation for leadership within the County's EMS first responder community."