Maintaining skills in an ambulance corps requires constant training. LVAC riding members attend a drill two evenings a month.
You need not have any emergency medical skills to join LVAC. We will train you in CPR and basic first aid.
Scenes from a recent drill on the proper use of backboards
LVAC Adds New Weapon In Battle

With Opioid Overdose
With the growing number of people addicted to and abusing prescription or illegal opioids - and subsequently overdosing - EMS first responders including Lewisboro's Volunteer Ambulance Corps are being enlisted to bring life saving medical intervention to the front line battle.
Along with the dramatic increase in the number of prescriptions written for opioid medicines in the US, tripling from 76 million to well over 200 million between 1991 and 2010, The Centers For Disease Control reports that heroin overdose deaths have doubled in much of the nation in the last two years while the US National Institutes Of Health reports that the first time heroin user has now reached epidemic levels.
Reacting to this challenge many States, including New York, are authorizing EMS and Law Enforcement agencies to train and equip their members in the administration of the overdose reversal drug known as Naloxone. Long used by Paramedics to directly reverse opioid effects Naloxone, also known by its brand name Narcan, is now being carried by LVAC EMTs along with other life saving equipment such as Automated External Defibrillators (AED.)
The Intranasal Naloxone Overdoes Kit contains two prefilled syringes of Naloxone and two mucosal inhaling devices, allowing the correct dosage to be administered into the patient's nostrils. "It's definitely a game changer," says LVAC Captain Robert Stoddard, "because of its ability to reverse the effects of an overdose almost immediately.
LVAC gets First Look at New LUCAS CPR Device
EMTs Doug Hux and Dan Murtha get some hands-on experience with the new device.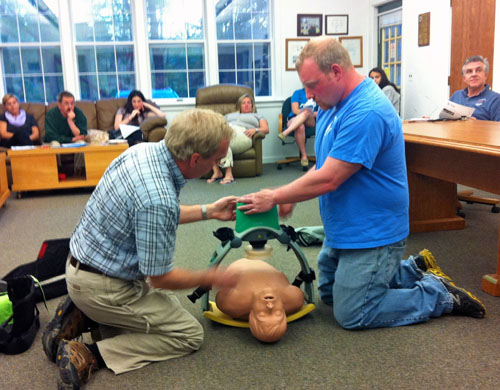 LVAC's first drill of the month was focused on the new LUCAS mechanical CPR device. A representative from the LUCAS company discussed its application and LVAC members broke up into teams and practiced on the machine.
LVAC Gears Up For Ebola Virus Disease
As part of its requirement to develop an emergency resposnse plan for treating and transporting patients with known or suspected Ebola Virus Disease (EVD,) LVAC EMTs recently conducted a drill on the use of Personal Protection Equipment. Paramedics from Westchester Emergency Medical Services (WEMS) ran the drill at LVAC's headquarters in Cross River. LVAC is operating under the Centers Of Disease Control (CDC) and NYS Department Of Health (DOH) guidance, recommendations and requirements as they relate to ambulance corps and Basic Life Support agencies.

Exposure to EVD can occur in emergency and transport settings where EMS staff is not wearing appropriate personal protective equipment. LVAC is responding with Infection prevention and control measures intended to minimize the risks of exposure to patients diagnosed with or suspected of having EVD, and control EVD transmission. LVAC is developing a variety of new operating procedures relating to patient assessment, transport, infection control, disinfection and waste management.
Ebola Virus Disease is a rare and potentially deadly disease caused by infection with one of four Ebola virus strains known to cause disease in humans. Healthcare providers caring for EVD patients and the family and friends in close contact with EVD patients are at the highest risk of getting sick because they may come in contact with the blood or bodily fluids of sick patients.
LVAC Joins Area First Responders For Briefing By
Israeli Multi-Casualty and Disaster Rescue Expert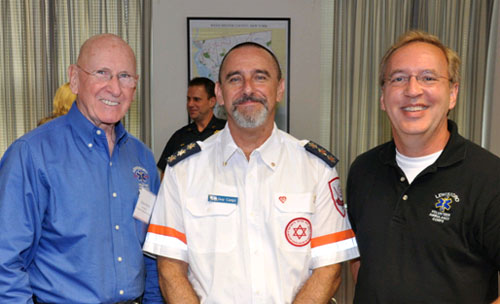 Guy Caspi, center, chief multi-casualty incident instructor and director of hazmat exercises and operational training for Magen David Adom (MDA) Israel's ambulance, disaster relief and blood services organization was the principal speaker at a meeting sponsored by Westchester County Legislative Majority Leader Peter Harckham in White Plains. Lewisboro Volunteer Ambulance Corps EMTs Jim Reilly, left, and Doug Hux, right, joined Mr. Caspi along with representatives from Police, Fire and EMS agencies throughout Westchester County. Because of the extensive number of rocket attacks, suicide bombers and other acts of terrorism that Israel has endured, MDA has emerged as the world's most experienced EMS organization in responding to multi-casualty incidents, pioneering techniques and protocols that are being used worldwide. LVAC, along with other County first responder organizations has expanded its training and drill curricula to include a Federally mandated focus on Weapons Of Mass Destruction.