LVAC trains continuously to maintain our skills. Our drills cover myriad topics, including: CPR with AED and LUCAS, Administration of life-saving drugs, EMT interventions, oxygen-therapy, vehicle operations, table-top exercises, vehicle extrication in conjunction with the FD, patient handling and packaging, and many others.
You need not have any emergency medical skills to join LVAC. We will provide all training at no cost to you.

Scenes from a recent drill on the proper use of backboards
LVAC Adds New Weapon In Battle

With Opioid Overdose
With the growing number of people addicted to and abusing prescription or illegal opioids - and subsequently overdosing - EMS first responders including Lewisboro's Volunteer Ambulance Corps are being enlisted to bring life saving medical intervention to the front line battle.
Along with the dramatic increase in the number of prescriptions written for opioid medicines in the US, tripling from 76 million to well over 200 million between 1991 and 2010, The Centers For Disease Control reports that heroin overdose deaths have doubled in much of the nation in the last two years while the US National Institutes Of Health reports that the first time heroin user has now reached epidemic levels.
Reacting to this challenge many States, including New York, are authorizing EMS and Law Enforcement agencies to train and equip their members in the administration of the overdose reversal drug known as Naloxone. Long used by Paramedics to directly reverse opioid effects Naloxone, also known by its brand name Narcan, is now being carried by LVAC EMTs along with other life saving equipment such as Automated External Defibrillators (AED.)
The Intranasal Naloxone Overdoes Kit contains two prefilled syringes of Naloxone and two mucosal inhaling devices, allowing the correct dosage to be administered into the patient's nostrils. "It's definitely a game changer," says LVAC Captain Robert Stoddard, "because of its ability to reverse the effects of an overdose almost immediately.
LVAC gets First Look at New LUCAS CPR Device
EMTs Doug Hux and Dan Murtha get some hands-on experience with the new device.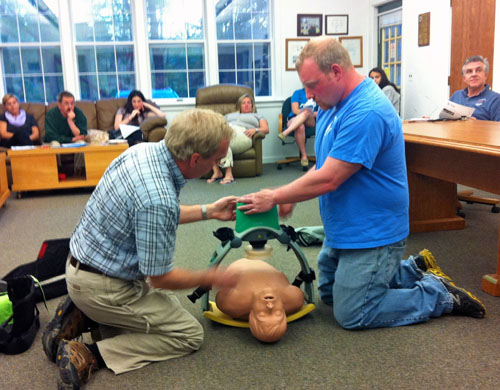 LVAC's first drill of the month was focused on the new LUCAS mechanical CPR device. A representative from the LUCAS company discussed its application and LVAC members broke up into teams and practiced on the machine.
LVAC Gears Up For Ebola Virus Disease

LVAC Joins Area First Responders For Briefing By
Israeli Multi-Casualty and Disaster Rescue Expert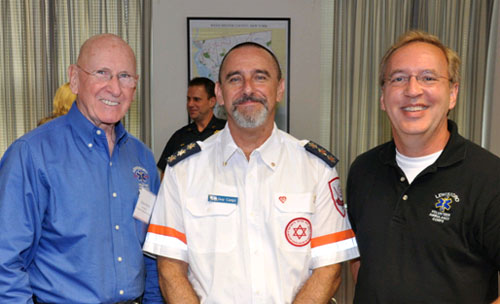 South Salem Fire Department Demonstrates Rapid Gear Removal for Firefighter CPR in Joint Drill With LVAC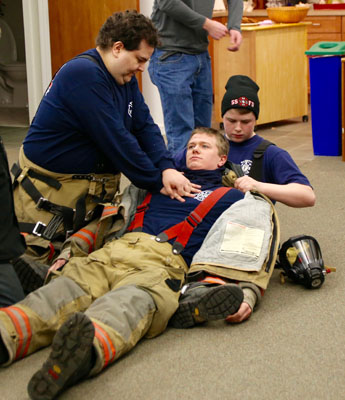 Members of the South Salem Fire Department, led by Fireman / EMT Steve Creedon demonstrated a new life saving technique for firemen who may suffer a cardiac arrest while at the scene of an emergency. In a display of practical choreography, CPR compressions are immediately started while other first responders coordinate the removal of heavy turn out coats, gear, helmets, boots, O2 masks and self contained breathing apparatus (SCBA), all in one swift, efficient movement that does not interfere with the application of CPR compressions given by one of the rescuers. Above, at LVAC's Headquarters on Route 35, Fire Fighters Scott Schoenberg simulates providing continuous CPR compressions with Donald Wicks as victim while Cody Harris takes up position to set up the rapid removal of gear and tank by other rescuers. After the demonstration, LVAC members took turns learning the new technique.