The original LVAC Ambulance, Memorial Day 1985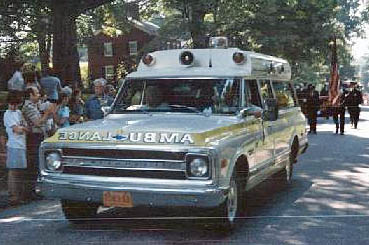 The Lewisboro Volunteer Ambulance Corps (LVAC) was founded in 1977. It began with one used ambulance (see above) and a rented garage in Cross River.
In 1981, the current building at 777 Route 35 in Cross River was dedicated. On land leased from the Town, our new headquarters building was built by citizens of the town, who contributed their hard work and expertise in various fields of construction, equipment and materials. As our numbers grew, so did our space requirements. Accordingly, our building was expanded and improved in the early 2000's giving us much needed space for training and administration.
Today as always, LVAC is made up 100% by volunteers. No position at LVAC receives any salary. Our dedicated members are listed on the Members page. Over 2/3 of our members are NY State certified Emergency Medical Technicians (EMT's) and over half of our members are certified by LVAC to serve as drivers of our ambulances. Our roster includes junior members, between the ages of 16 and 18, many of whom are students at John Jay High School. Every single member of LVAC is trained in Cardiopulmonary Resuscitation (CPR), Basic First aid, assisting in the use of EpiPen autoinjectors, and how to use Automatic Electronic Defibrillators (AED's).
In order to deliver first-class prehospital patient care, we need more than just people - we need first-class equipment. Today, LVAC operates with two state-of-the-art ambulances and two first response vehicles ("fly cars"). All of our vehicles are equipped with the supplies and equipment mandated by the New York State Department of Health. Beyond that, all of our vehicles are also equipped with AED's as well as automated CPR compression devices ("LUCAS devices") providing us the best opportunity to deliver early defibrillation and high-quality continuous chest compressions; both of which are keys to cardiac arrest survival. Our vehicles also stock all of the medications that EMTs are authorized to administer (including epinephrine, Narcan, albuterol, glucose, aspirin and oxygen). Our two ambulances are both equipped with Stryker power cots and power loaders which enable the fastest and safest loading and transfer of patients. LVAC's combination of medical expertise, first-class equipment and fast transport can be the difference between life and death.
In addition to what is aboard our vehicles, we have more than a dozen Lifepak AEDs deployed around town. Most of our EMTs carry an AED in their personal vehicle for rapid deployment. LVAC EMTs are also trained to use and carry Syringe-based Epinephrine (for the treatment anaphylaxis), Albuterol (for the treatment of asthma), Glucometers (to aid in assessing potential diabetic emergencies), tourniquets, oxygen, and more. LVAC believes that by providing our volunteer EMTs with these potentially life-saving items, we can enable more rapid delivery of EMS when it is needed.